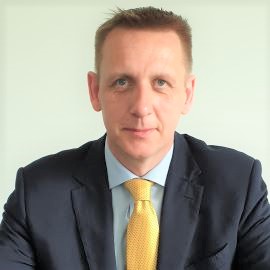 Rob qualified as a Chartered Accountant in 1992 with an accountancy firm based in Bedfordshire.
Post qualification, he moved into the Financial Services arena, where he has remained for his entire subsequent working career, into a finance role at the Equitable Life Assurance Society. After a couple of years there he moved to a role in the City with Deutsche Bank where he spent 5 years in the role of Head of Management and Financial Reporting for the London Branch. Whilst at Deutsche he was also heavily involved in a number of projects including the NYSE listing and SAP implementation.
After leaving Deutsche Bank he moved to a role with CSC, where he headed the finance function for outsourced finance, back office and actuarial services for a number of large financial institutions and then took up a role was at Raiffaisen International Bank where he was Head of Finance for the London branch which primarily traded FX, Bond and Money Market products.
Subsequently he worked for Standard Chartered Bank, where he was Head of Finance for Wholesale Banking for Africa, a role in which he was responsible for the finance functions in 14 countries pan-Africa including Kenya, Ghana, Nigeria and Africa, with over 25 staff reporting to him.
He then spent over 5 years at Altium Capital Limited, a corporate finance investment house, where he was Group Financial Controller and Interim Finance Director, with responsibility for all financial, management and regulatory reporting, together with a number of system implementations and set up back office support to incubation businesses.
For the past 5 years he has been Group Finance Director at Global Ridgeway Holdings Limited, a group of companies which hold investments globally in insurance companies, insurance brokers and property. He joined the business in its early stages and implemented the entire back office function. Whilst in this role he has been heavily involved in due diligence work on assessing potential investments and also assisted in successfully listed a Group company on an European Stock Exchange.
Outside of the workplace Rob is a keen athlete and regularly attends the gym for spinning classes and has completed the Barcelona marathon alongside several half marathons. He is also a long standing supporter of Leicester City Football Club and is still revelling in their unexpected Premier League triumph.