Resolution of border dispute with Ivory Coast is a boost for Ghana.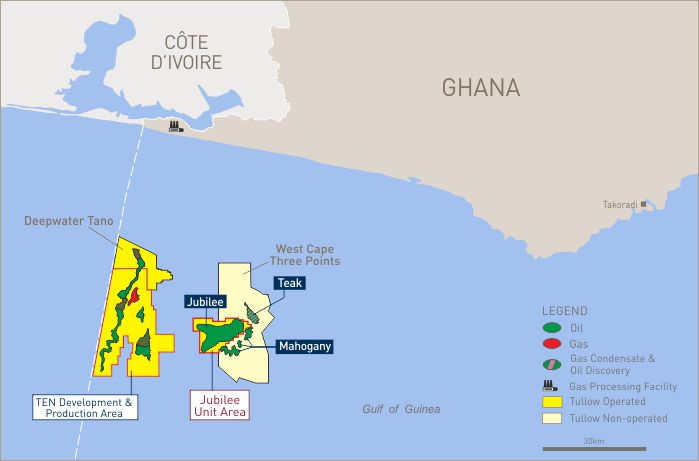 Image courtesy of TULLOW OIL PLC
The good news is that Tullow Oil will resume drilling in Ghana after the resolution of the border dispute with Ivory Coast that has halted expansion of an important new field for two years.
An international tribunal declared in late September that the sovereign rights of Ivory Coast had not been violated by Tullow's development of oil and gas fields in Ghanaian waters close to the border between the two countries. This ruling clears the way for the UK-listed Tullow to continue the development of the Tweneboa, Enyenra and Ntomme fields, collectively known as Ten.
The development of Ghana oil and gas production is a positive sign to this struggling country which is currently fighting to stabilize its economy.
However, the IMF are not making life easy as it has urged the government to broaden the tax base and enhance compliance in order to boost tax revenues, which are significantly below the forecasts for the first half of 2017.
This growing dependency on oil and gas production is causing concerns to different commercial lenders, although this balanced by it representing a positive sign in terms of boosting the foreign currency reserves held by the country.
It appears that there is a growing interest of investors in participating in traditional industry in Ghana, and there is an increasing demand for funding for such projects. Klapton is experiencing a dramatic growth in demand for repayment guarantee bonds, to assist in fund raising by international investors into the Ghanaian economy. The levels of hard currency reserves and the bureaucratic strains are not helping in making underwriting decision in this respect.
Klapton's RUC Committee (Reinsurance, Underwriting & Claims) met this month and after taking into account the factors outlines above into account, decided to allow a moderate increase in the company's exposure in Ghana, but has reduced the surety exposure periods, down from 25 average to 20 months average.