Rob Bygrave, the CFO of Klapton, announced that Klapton continued to build on the strong start in H1 2021 with further growth in Q3 2021. GWP for the year now exceeds €30m, which means that at this stage in 2021 we have already beaten the premium written for the whole of 2020. The largest contributor to this success has been the Asia and Middle East team, who have generated growth in premiums of over 30% year on year.
Due to the well managed portfolios and controlled loss ratios, underwriting profits stand at €6.8m, compared to a forecast €2.8m and prior year comparative of €2.7m. We continue to make significant payments of claims and claims related expenses (currently €3.3m for the year-to-date) as they are approved.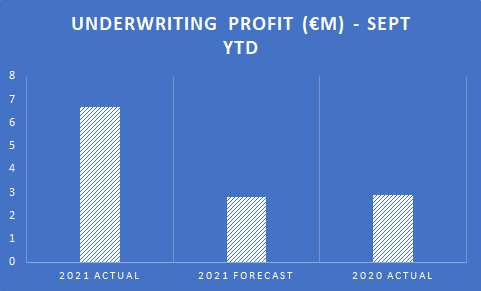 Costs remain tightly monitored and regulated, although they run at slightly above budget, this is due to additional staffing hires in 2021 to support and sustain the business growth, particularly in our sureties team which we have invested heavily in adding staff as we look to develop and grow the business significantly in the coming years. We have also increased headcount into our back office teams to ensure this functions effectively to support the front office teams and ensure rigorous controls are adhered to.
However, even after taking into account the growth in costs, net profits represents an excellent performance at €4.0m compared to €1.7m for the same period in 2020