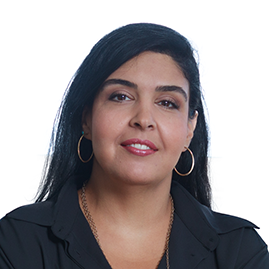 Jennifer Estrougo, Adv.
Head of Claims
The board of Klapton Insurance Company Ltd has the great pleasure to announce the appointment of Jennifer Estrougo as Head of Claims.
Jennifer is a certified attorney by the Israeli BAR association.
Prior to joining Klapton Insurance Company, Jennifer has worked for both Howden Insurance Brokers and the Kennedys Law Firm, handling complex insurance claims.
With over 13 years of both legal and insurance claims experience, Jennifer brings a wide range of knowledge into managing high profile insurance claims, insurance disputes in and out of courts and multipart coverage issues.
She also specializes in advising insurers on policy-wording interpretation and is well acquainted with insurers, reinsurers, and brokers around the world.

In an effort to streamline the claims process, Jennifer is establishing an in-house claims department.
The claims team will handle all of the claims, from receiving all new notifications through the Klapton claims email ( claims@klapton.com ), through liaising with brokers, reviewing of policies, assessing adjuster's reports and final response.
Further information on the new claims process can be found on the Klapton website here
http://klapton.com/claims/
Jennifer believes that bringing in-depth knowledge together with a proactive claim process is key for her department.
Outside of the office, Jennifer is a devoted wife and mother of three. In her free time, she mostly enjoys quality time with her family and friends, out in nature or at home.